I'm baaack!!
Between family issues, getting a new tutoring job (YAY!) and the heat I have been lazy when it comes to my reading. I hope to begin anew as I always bring plenty of reading material to Comic Con (which begins this Wednesday) for my downtime between panels. There are a few books that I had finished quite a while ago, but just never got around to blogging about...
THE RUBY IN THE SMOKE by Philip Pullman
This is the first in the Sally Lockhart mystery series from the man who wrote the Golden Compass trilogy (which I still have not read). Sally is an orphan in Victorian England who finds herself alone in the big city. She links up with some Actors and Stereographic photographers who help her to solve the mystery of her father's death. This novel blends action with Steampunk and a pretty good mystery. The characters are rich and very believable. I look forward to reading other installments of the series.
ENTHUSIASM by Polly Shulman
I read a review of the author's newer book which is based upon the Grimm Fairy Tales and saw that this novel was a modern day YA excursion into Jane Austin love. The premise unfortunately, is much more interesting than the actual results. I found the characters to be two-dimensional and did not really connect with any one character (which is how I usually get into stories). I liked the fact that one of the girls became obsessed with a subject (in this case Austin) and then lived the lifestyle, unfortunately, the story did not draw me in and left me wanting. I am awaiting the new novel and hope it delivers where this novel did not.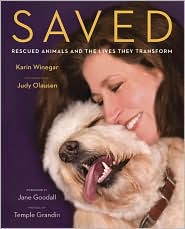 SAVED-RESCUED ANIMALS AND THE LIVES THEY TRANSFORM by Karin Winegar & Judy Olausen
This book is one that caught my eye as I was shelving at the library. I am a sucker for a good animal tale and am a strong proponent for rescuing animals. The stories in this book had me angry, laughing, and crying. From the two 3-legged Pyrenees who help older people transition to death, to a man who was brought back from the depths of depression by a young deer, this is a book that will tug at your heartstrings and make you look at animals in a different way. I am always amazed at the resilience of animals who can be abused to an inch of their lives and yet come back to trust and love. I wish we humans were as forgiving.
I've got a couple more to post, but I figured I would just do a few at a time. I also will give what info I can from Comic Con. I hope to try to get into some of the bigger panels this year, but it's always hit or miss.
Until next time, Good Night and Good Reading!